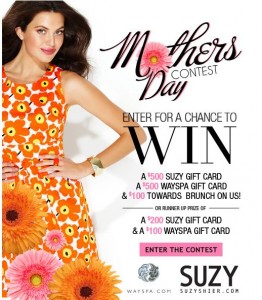 As hard as it can be to be mom, we do it because we love our children and our families. No thanks necessary. But it is always nice on Mother's Day for our husbands to make breakfast with our kids and see the cards our kids made for us in school.
Suzy Shier always wants to honour us mothers with this great contest!
Grand Prize includes a $500 Suzy gift card, a $500 WaySpa gift card and $100 towards brunch! There is also a runner up prize of a $200 Suzy gift card and $100 WaySpa gift card to be won!
A day of pampering and shopping? I could definitely use that!
Cheers,
Alicia