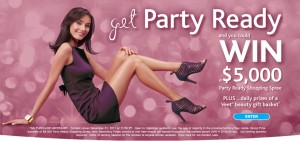 Enter to win the grand prize of $5,000 cash and for a daily chance to win a Veet gift basket worth $100!
After you fill out your ballot you can pick one of these fantastic coupons to print or have mailed: Save $5.00 on the Veet "I Want It All Package", Save $1.00 on Express Facial Treatment, Save $1.00 on Express Bikini Treatment and Save $1.00 on Putting Your Best Foot Forward Legs Treatment.
Now that is a smooth sweepstakes if I ever saw one!
Cheers,
Alicia