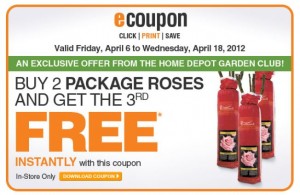 I remember growing up, my mom had a rose bush in her garden, and I use to get excited every time the flowers bloomed. Now I think it is my turn to add a rose bush to my garden!
Right now get a free package of roses at Home Depot when you buy 2 of the same with this coupon!
It's still a bit brisk but I should be ready to start gardening in no time!
This Coupon Expires on April 18.
Cheers,
Alicia