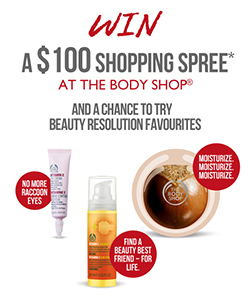 I love using the Body Butter from The Body Shop because it smells great, leaves your skin feeling hydrated and isn't greasy.
Here's a chance to win a $100 Shopping Spree at The Body Shop and have a chance to try their Beauty Resolution favourites!
I really want to try their Cocoa Butter Moisturizing Stick that is specifically designed for pregnant tummies to help prevent stretch marks.
This Contest Closes on January 27.
Cheers,
Alicia