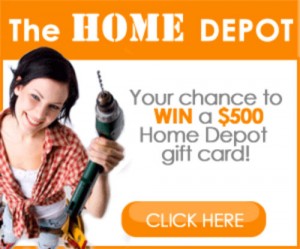 It seems that there are always projects going on around our home but there isn't always the money to check off every box on our wish list.
Well Canadian House & Home is offering a little financial hand by giving away 5 Home Depot Gift Cards of $500 each!
If I won that, we can do the backsplash in my kitchen that I have been wanting to do for the last couple of months now!
This Contest Closes on July 21.
Cheers,
Alicia
Win a $500 Home Depot Gift Card