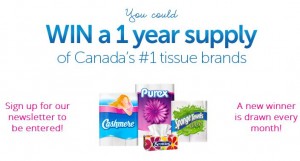 Sign up with Kruger and you could win a year's supply of your favorite tissue products.
I would look forward to the paper towels the most! I never knew I could use as many as I do before I had a baby. They're just handy, there is a spill everywhere I look! My little one is now drinking out of a sippy cup and her favorite thing to do with those is to try to get drips out of them and sprinkle them everywhere she can. I haven't found one yet that she can't figure out!
Grand Prize includes 340 rolls of bathroom tissue, 64 rolls of paper towels and more, 28 cartons of facial tissues and more!
This Contest Closes on January 31.
Cheers,
Alicia