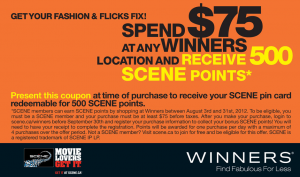 Winners is my one stop shop for pretty much everything around the house. They have clothes for me, the kids and even some great items to decorate the bed and bathrooms.
When you spend $75 at any Winners location you will receive 500 Scene points! When you get enough Scene points you can get free nights out at the movies or free meals at some great restaurants. This is perfect for when you tracked down a babysitter and can finally have a night out with your hubby!
What perfect timing for this offer, especially with the needsIf it means a night out at the movies for me and the hubby I don't mind doing a little shopping!
Enjoy!
-Caitlin