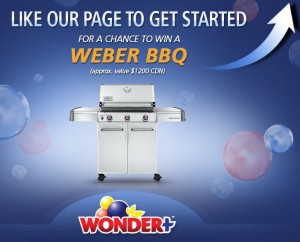 We make about 3 or 4 of our dinners on the barbecue every week. So our grill definitely gets a lot of use.
If you love the taste of fresh hamburgers, hot dogs, veggie burgers, sausages and more then definitely enter this contest courtesy of Wonder Bread Canada!
Just "Like" them on Facebook and fill out a ballot for a chance to win a Weber BBQ worth $1200!
I have been experimenting a lot with different meals on the grill. Just last weekend I tried chicken kabobs and the kids loved them.
This Contest Closes on August 15.
Cheers,
Alicia