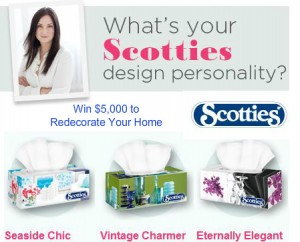 If I won $5,000 to redecorate my home, I would start in the basement. It is a work in progress right now and it would be nice to get it decorated as a comfortable living space to entertain and enjoy some down time!
Right now Scotties and Style at Home are giving you a chance to win a design consultation with Style at Home editor, Erin McLaughin and $5,000 to redecorate your home with!
Just pick your favourite Scotties design tissue box for your ballot for a chance to win!
I like the Eternally Elegant style myself. Which one is your favourite?
This Contest Closes on May 7.
Cheers,
Alicia
Win $5,000 to Redecorate Your Home