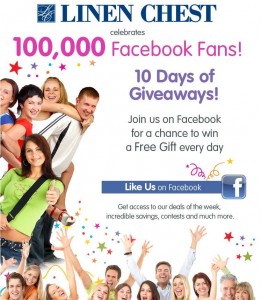 Being a Facebook fan of Linen Chest really does have it's perks!
"Like" Linen Chest on Facebook and have a chance to enter to win a prize each day for 10 days!
Day 1's prize was a Nespresso Pixie machine, Day 2's prize is a Bamboo Sheet Set, stayed tuned for Day 3!
I am hoping for some new gadgets for the kitchen in the coming days! *fingers crossed*
This Contest Closes on April 2.
Cheers,
Alicia