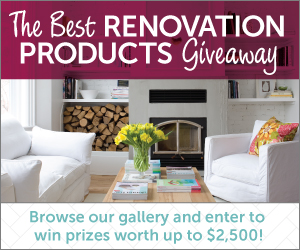 Canadian House & Home is giving away 4 prizes worth up to $2,500 to help you with your renovations!
Prizes include: HunterDouglas gift certificate to use towards Duette Architella Honeycomb Shades worth $2,500, $1,000 in Icynen products plus a consultation, 20% off a $1,000 purchase at The Sliding Door Company, a FrogTape Prize Pack worth $40.
Just browse through their Best Renovation Products Gallery and make note of the product names in order to complete your ballot for a chance to win!
*Hint* The products are from the companies providing the prizes.
This Contest Closes on February 21.
Cheers,
Alicia