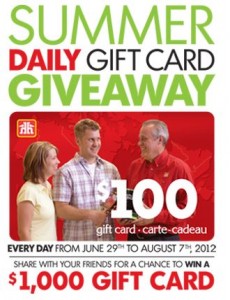 We had planned to redo my son's bedroom this year because he has outgrown the jungle theme and now whats a space theme.
Home Hardware is giving out a $100 gift card every day during the contest period.
There is also $1,000 gift card up for grabs if you share this contest with your friends.
Finally, after you enter the contest and share it, you can print a coupon to save $7 on Beauti-Tone paint.
Lots up for grabs here, so make sure you enter!
Cheers,
Alicia