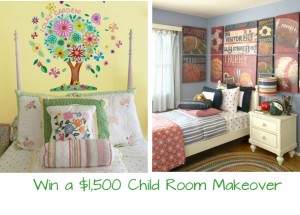 Do you have a little one on the way and need to transform the work out storage room into a nursery? Or maybe it's time to update that nursery into something a bit more age appropriate?
ParentsCanada is giving you the chance to win a $1,500 child room makeover. The lucky winner will receive $1,500 worth of products from YouNameItBaby and a photo in the upcoming issue of ParentsCanada!
My son's room is definitely in need of a makeover, so this would be perfect!
This contest closes on August 15th.
Cheers,
Alicia