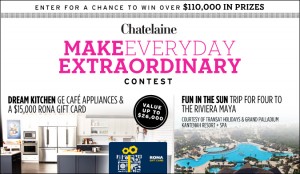 Chatelaine teamed up with RONA to remodel the magazine headquarters kitchen, and now they want to give you YOUR dream kitchen!
As well as 340 other amazing prizes, including a 7-night trip for 4 to Riviera Maya in Mexico.
Seriously, these prizes are wicked. Be sure to enter everyday, and good luck!
This Contest Closes on April 10.
Cheers,
Alicia