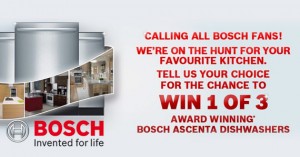 Bosch wants to know which of their three kitchens you love. Show them via their Facebook page for your chance to win 1 of 3 Bosch Ascenta dishwashers!
I love the middle kitchen the best, the dark wood, and bright red accents with the stainless steel appliances looks very sharp.
This contest ends on May 31.
Cheers,
Alicia