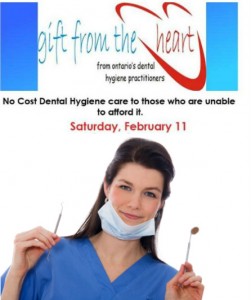 Going to the dental hygienist is important to make sure you keep yours and your family's mouth healthy. But it can be pretty expensive if you don't have insurance. Well if you or someone you know has difficulty affording trips to the dental hygienist, check this out!
Dental Hygienists across a number of provinces are opening up their doors and hearts to the public on February 11 offering free oral care to those who cannot financially afford it.
There are several clinics in different cities participating so check the list below to find the one near you.
Make sure you call in advance to make an appointment.
This Offer is for February 11 ONLY.
Cheers,
Alicia