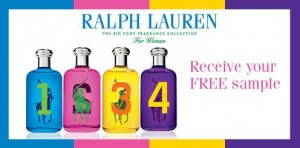 Ralph Lauren makes some of my favourite fragrances, so when I have a chance to score a free sample, I'm there!
Here's a chance to try Ralph Lauren's The Big Pony Collection for Women. Shoppers Drug Mart is giving away 0.3mL samples of their hit fragrances!
Just print off this coupon and take it into Shoppers Drug Mart to claim your sample!
*I suggest you call ahead to make sure they have samples at your local store.
This Coupon Expires on March 31.
Cheers,
Alicia
Print Your Shoppers Drug Mart Coupon