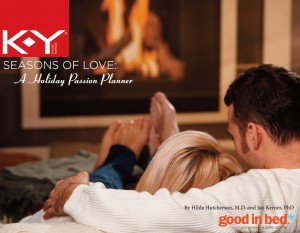 After having kids it is harder to get those sparks flying in the bedroom with junior waking up every two hours. Well, this Valentine's Day, drop the kids off at your mom's and have some much needed grown-up time with your husband.
If you are looking for some innovative ideas check our KY's free Seasons of Love e-book! There are some great suggestions on how to get more intimate with your partner.
There are ideas for many other holidays as well, including April Fool's Day, Mother's and Father's Day as well as Halloween.
Cheers,
Alicia