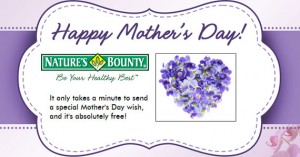 Mother's Day is just around the corner! If you are unable to make the trip to visit your Mom this year for her special day, here is a great way to say thanks with Nature's Bounty! Send a personalized and FREE Mother's Day wish!
Choose one of their photos and messages, or personalize it with your own!
This offer expires on May 31.