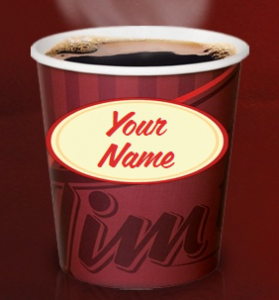 Not only is Tim Horton's coffee made with a unique premium blend, 20 minutes fresh, and served exactly the way you like it, but now you can personalize it too!
'Like' the Tim Horton's Facebook page and you will be able to personalize your own cup by printing their cool labels. You can even make your personalized cup your desktop wallpaper and profile picture too!
This sounds like every coffee lovers dream! I just personalized my label and printed it to go on my cup of coffee tomorrow morning!
Cheers,
Alicia