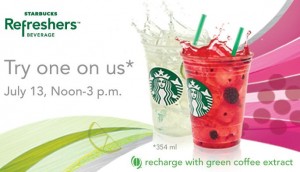 This Friday, July 13th, enjoy a FREE handcrafted Starbucks Refreshers beverage!
Starbucks are really excited about the latest breakthrough in coffee – Green Coffee Extract! They have 2 new delicious drinks available for us to try out for FREE!
Option #1 is the Very Berry Hibiscus Starbucks Refreshers beverage. Whole blackberries and real fruit juice are combined for a tangy, tantalizing way to recharge your day.
Option #2 is the Cool Lime Starbucks Refreshers beverage. Slices of real lime and real fruit juice make for a lovely, lively boost to your afternoon.
Head in to your local participating Starbucks for your chance to try out either one on Friday, July 13th between 12 – 3pm!
Cheers,
Alicia
Details on how to get a FREE Starbucks Refreshers HERE