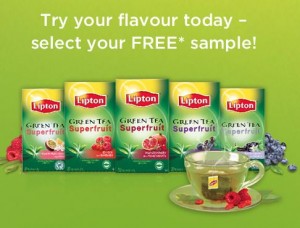 I am not a big tea drinker myself but it's always important to have some in the house, in case you have surprise guests that do drink tea.
Right now you can get a free sample of Lipton Green Team Superfruit from their Facebook page.
Just "Like" Lipton on Facebook and pick your flavour to get yours!
You can choose between Lipton Green Tea Superfruit Acai Blueberry, Lipton Green Tea Superfruit Blackcurrant Vanilla, Lipton Green Tea Supefruit Passion Fruit Orange Jasmine or Lipton Green Tea Superfruit Red Goji with Raspberry.
Once you request yours it will be delivered to you in 4-6 weeks.
Cheers,
Alicia