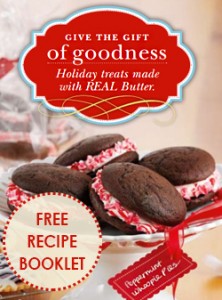 'Tis the season to get cracking on all that tasty baking you need to get done for the holidays! If you are looking for some new recipes to try out this year check out this FREE online cookbook!
It features everything from Gluten-Free Allspice Gingerbread cookies to Peppermint Whoopie Pies and everything in between!
I usually make the same treats every year, but I might just have to throw a new one into the mix! My eye is on the North Pole Cookie Dough. It would make for a great gift to give out at parties!
Cheers,
Alicia
Get your Holiday Baking Started