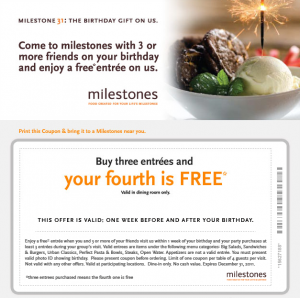 This is a nice treat! Sign up with Milestone's and they'll give you a free entree on your birthday when you bring three friends with you.
Finding three friends to take out with you shouldn't be too hard! I haven't eaten here but I've heard good things about it. And they're everywhere, you won't have trouble finding one of them, that's for sure!
Well, enjoy your birthday treat from Milestone's Bar and Grill!
Cheers,
Alicia