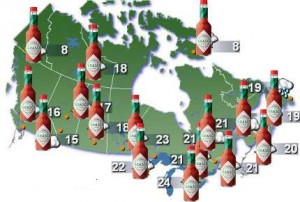 Do you like it hot?
If you love Tabasco, here is the free sample for you.
"Like" TABASCO Canada on Facebook and pay attention to their wall this week, because they will be giving away 200 free limited edition sample kits!
They will be different times each day, so stay tuned!
*Hint* Monday's giveaway will be at 1PM*
*Hint* Tuesday's giveaway will be at 7PM ET*
This offer expires on May 4.
Cheers,
Alicia