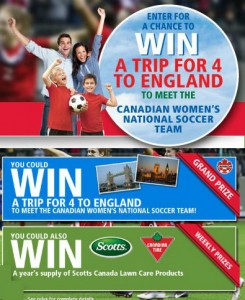 I haven't been to England before and I would love the chance to take my family there. Scotts is now giving us a chance to win our way there in there newest contest!
Enter to win a family trip for 4 to England! There you will get to meet the Canadian Women's National Soccer Team and spend 5 nights in this historic city!
There are also 12 weekly prizes of a year's supply of Scoots Canada Lawn Care Products! My husband would love to win that because he spends so much time manicuring the lawn.
Cheers,
Alicia
Enter the Scotts Soccer Experience Contest