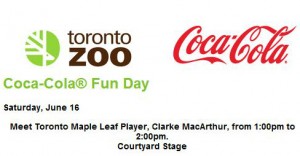 Looking for something to do with the kids this coming Saturday? Although I can't send you to the Tropics or to Africa, I can still help you see your favourite exotic animals!
For one day only, the Toronto Zoo is letting kids 12 years and under in for free! All you have to do is bring in any Coca-Cola product (Fanta, Nestea, Vitamin Water, etc). While you are there, you not only will be able to see your favourite animals but you can also meet the Toronto Maple Leaf Player Clarke MacArthur.
This offer is valid on June 16th only.
Cheers,
Alicia