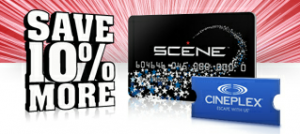 We called a sitter to watch our kids so we could go to the movies last Friday night. It was a fun night out. But after movie tickets, popcorn, drinks and paying the sitter we spent close to $100. So when I found this deal from Scene, I knew date night would now be on Tuesday!
Now you can save an additional 10% off of your movie tickets, including the IMAX and Ultra AVX Screenings! Just show your card when you buy your tickets and you will get your savings! Don't forget about the concession. You always get 10% off there when you show your card!
Looks like we are going out on Tuesday!
Cheers,
Alicia