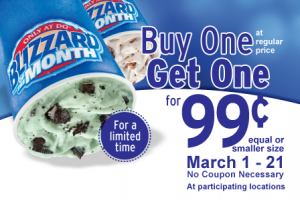 When I go into Dairy Queen, I end up standing and staring up at the different Blizzard options for ages while I try to decide.
I would like to take this opportunity to apologize for that, people-in-line-behind-me.
All this to say, head to Dairy Queen for a cool Buy One Get One for 99¢ Blizzard promotion.
I'll try and make up my mind on my way over.
This Offer Expires on March 21.
Cheers,
Alicia