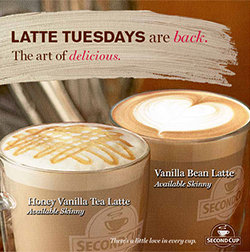 Latte Tuesdays are back at Second Cup!
Get a large Latte at Second Cup every Tuesday for only $2.95 in Ontario and Quebec and $3.49.
I think I will call up a girlfriend and go for a Vanilla Bean Latte with the kids tomorrow.
This Offer Expires on February 7.
Cheers,
Alicia