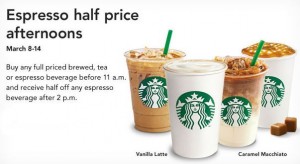 Buy any full priced brewed tea or espresso beverage before 11 a.m. and return with your receipt on the same day after 2 p.m. and get half off any espresso beverage!
I think I will have to "borrow" my hubby's receipt from his morning coffee when he gets home so I can go get me a Caramel Macchiato or an Iced Peppermint White Chocolate Mocha! Yumm 😉
This Offer Expires on March 14.
Cheers,
Alicia
Get Your Half Price Espresso This Afternoon