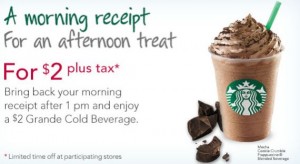 On those sticky, humid days there is almost nothing that can beat the heat better than a Starbucks cold beverage.
When you purchase a Starbucks drink in the morning, you can bring your receipt back after 1pm for a Grande cold beverage for only $2. I'm really into Mocha Frappucino's right now so I think I will steal my hubby's receipt from his morning coffee when he gets home from work tonight!
This offer is valid from July 30 – August 26.
Cheers,
Alicia