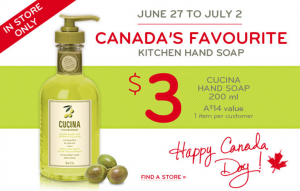 Do you have the Cucina Soap in your kitchen or bathroom? I haven't tried it before because I usually opt for the cheaper soaps, but with this great deal how can I resist!
For a limited time only, Fruits & Passion is offering you a great deal on Canada's favourite hand soap. With an original $14 value, they are giving it to us for only $3!
Now this is my kind of Canada Day celebration!
This offer is valid from June 27th – July 2nd.
Cheers,
Alicia