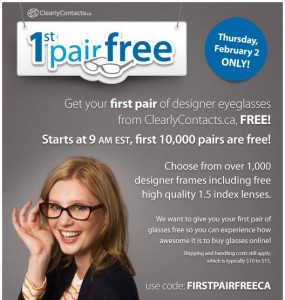 First time buyers of Clearly Contacts can chose a FREE pair of glasses. All you pay is the shipping (For me it was around $12).
Getting your free pair is pretty simple. Use the link below to get to Clearly Contacts on Facebook, and get the glasses coupon code. Use the special code at check out when you order your glasses and then watch the total price go from a huge number, to a REALLY small one.
They have big brands like DKNY and Guess .
❗This Offer Is Good for February 2 ONLY
Cheers,
Alicia
Order Your Free Pair of Glasses