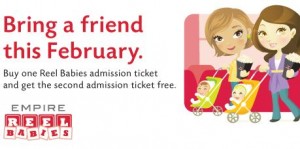 I haven't been to the Empire Reel Babies Outing yet, but after reading this you can be sure I will be going soon!
Twice a month you can see new release movies in a baby-friendly environment. The lights stay dim, the volume is lower and they have change tables, bottle warmers, play mats and everything you need to care for you baby during the movie!
For the month of February you can bring a friend with you for FREE!
This offer expires on February 29.
Cheers,
Alicia