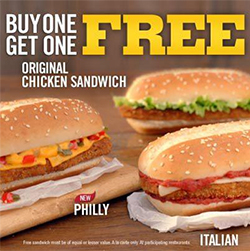 It's always a nice treat to go out for lunch but it can really get expensive.
With Burger King's chicken deal, my husband and I can eat for the price of one!
Purchase any of the Original Chicken Sandwich varieties and get one free! Try the Italian or the new Philly Sandwich. Italian sounds so good.
I think we will go there tonight!
This Offer Expires on February 17.
Cheers,
Alicia