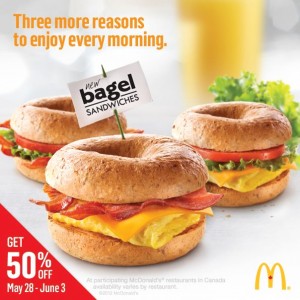 I saw this posted in McDonald's when I went to get an iced coffee on the weekend, so I thought I would share it!
Until June 3, get 50% off of bagel sandwiches at McDonald's!
There are 3 different kinds to choose from including BLT, Bacon 'N Egg and Egg LT.
I use to love having the BLT Bagel in the morning, so I think I will pick one up sometime this week and treat myself!
For 50% off you can't go wrong!
This Offer is good from May 28- June 3.
Cheers,
Alicia