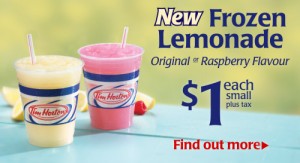 Nothing tastes better than a nice cold lemonade on a hot summers day. So when I found out about the new Tim Hortons frozen lemonades, I just had to try one!
You can get the original or raspberry frozen lemonade for only $1 for a small all summer long!
I forsee a lot of these this summer. 😉
This Offer Expires on August 31.
Cheers,
Alicia