SORRY! They have run out of vouchers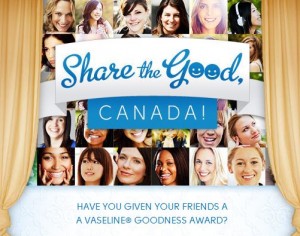 Do you have an amazing neighbour that is always there to look after your pets or water your plants? What about a role model that you look up to? Or a girlfriend that you can always go to no matter what the problem?
Award those special people close to you with a variety of awards from Vaseline!
Just "Like" Vaseline on Facebook and select a special friend and an award and send it to their Facebook page. You will then get access to a voucher for a free 265ml bottle of Vaseline lotion! When your friend accepts your award THEY will get one too!
I just sent my mom "The Wind Beneath My Wings Award". She will be happy to get her reward too!
Cheers,
Alicia
Get Your Free Bottle of Vaseline