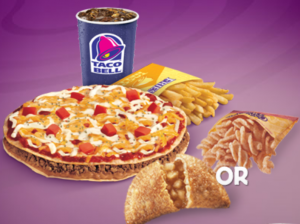 Are you craving a snack with a Mexican twist? Or maybe you would rather an Italian pizza?
Why not head to Taco Bell and grab a Mexican Pizza? It's the best of both worlds, and on top of all that, you can receive a free dessert upgrade! Simply head to Taco Bell's Facebook page and print out the coupon.
I love Taco Bell but never seem to make it out there. With this dessert deal that will soon change! I love apple pie so I think my dessert upgrade will be a caramel apple empanada.
This offer expires on May 27th.
Cheers,
Alicia