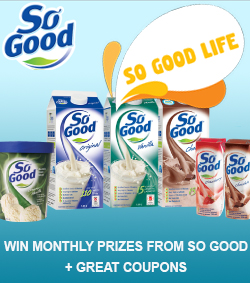 So Good is that sweet spot where things that taste delicious also happen to be good for you too. Haven't tried this delicious product yet? Enter now for the chance to win one of the 5 monthly prizes that So Good is giving away. Simply submit your Hot So Good photo for the chance to win!
It looks like a lot of people have been submitting their cool Halloween costumes. What will you put up?
You can also grab a coupon to save $2.50 on their products after you've submitted your photo.
This Contest Closes on April 30.
Cheers,
Alicia