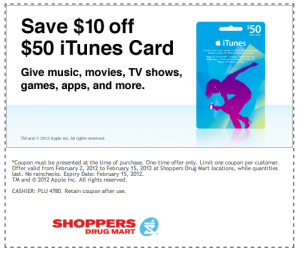 This deal is music to my ears!
If you love to listen to music in the car, at the gym or walking to class then your toes will be tapping with excitement thanks to Shoppers. They are giving you the chance to save $10 when you purchase a $50 gift card. That's 20% off the retail price!
I know I love downloading the great quality music that iTunes has to offer and it's even better when I don't have to fork over the cash for it. If you are the same click on the link below to purchase your gift card!
This is also a really great idea for a Valentine's Day present! You could even pre-download a couple of your hubby's favourite songs to enjoy during your romantic dinner!
This Coupon Expires February 15.
Cheers,
Alicia