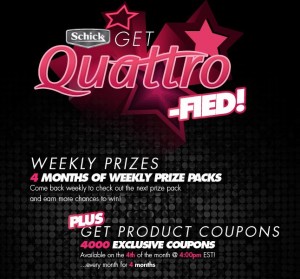 Summer is on it's way, so that means it's time to start shaving your legs again ladies!
Schick Quattro is trying to get you Quattro-fied in their newest contest.
You have a chance to win a weekly prize pack for the next 4 months on their Facebook page! Also, at 4PM EST on the 4th day of the next four months have a chance to get 1 of 4,000 exclusive coupons!
Just "Like" Schick Quattro for Women for your chance to get in on the action!
Now that is smooth! 😉
This Contest Closes on July 21.
Cheers,
Alicia
Check Out Schick Quattro's Facebook Page