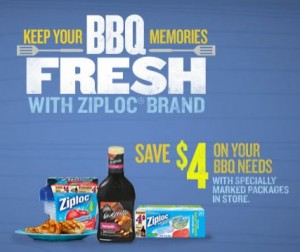 I love having barbecues in the summer, mainly because that means I get my husband to cook, but also because they are down right delicious!
Ziploc is trying to save you money on everything you need for your BBQ from the chicken to the marrinade to the containers to store the left overs!
Head to the Ziploc website to find out how to save up to $4 on Club House 30 Minute marinades, fresh chicken and any two Ziploc products when you buy specially marked packages in store!
I know what I am going to pick up for the store tonight!
Cheers,
Alicia