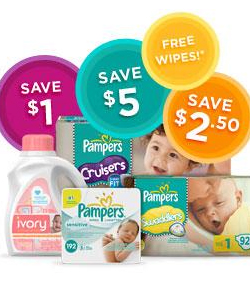 From diapers to wipes we go through a lot of products for our little ones. That's why when I saw these Pampers coupons, I wanted to make sure I let you guys know right away.
Request coupons to save $5 on Two Packs of Pampers Swaddlers or Cruisers, free wipes when you buy any Swaddlers, Cruisers or Pants, Save $1 on any One Ivory Snow product and save $2.50 on Pampers Swaddlers or Cruisers.
I can definitely get use from all these coupons and saving $11 will really help!
Cheers,
Alicia