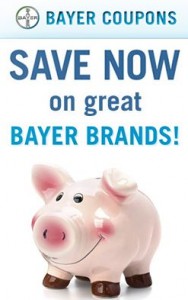 Heading to the pharmacy to stock up on the basics? Don't forget to print these coupons before you go!
Here are the great products you can save on:
First Aid: Save $2 on Ozonol for scrapes, minor burns and skin irritations and save $1.50 on Bactine, kills germs and relieves pain on contact.
Gastrointestinal:Save $1.50 on Alka-Seltzer for fast relief of upset stomach and heartburn and save $2 on Philips to relieve heartburn and upset stomach.
Footcare: Save $2 on Canesten's anti-fungal cream and $2 on Dermal Therapy Heel Cream.
Cheers,
Alicia