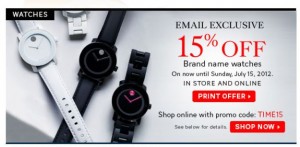 As a mom, it's important to keep track of the time. Is it feeding time, time to put the little one down for a nap or time to meet a friend for a play date?
Now you will always know what time it is, with this great coupon from The Bay.
Print this coupon and save 15% off on select brand name watches at The Bay!
Now that will come in handy!
This Coupon Expires on July 15.
Cheers,
Alicia