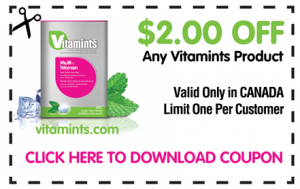 Being super-mom sure can be tiring! It can also be easy to forget to take your daily vitamins to ensure good health. I was really happy to find out about Vitamints because they not only give you the vitamins you need but you have the freshest breath after too!
Here are two coupons for you to save up to $7 on any Vitamints product.
This coupon expires on September 31st.
Get Your Vitamints Coupon Here
Enjoy!
-Caitlin