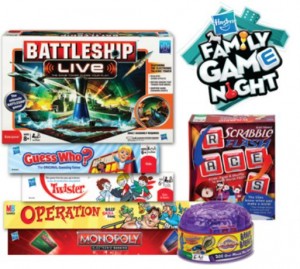 Don't know what to do tonight? How about have a Family Game Night! Okay, so I may sound like one of those Hasbro commercials with the smiling family playing games when in reality the camera goes off the brother and sister are bickering and the mom and dad are having words because dad put house on Boardwalk.
Regardless, board games are fun! Print this coupon and save $5.00 off ANY Hasbro Game over $14.99!
Should make for a fun couples game night at my house!
This Coupon Expires on April 30.
Cheers,
Alicia