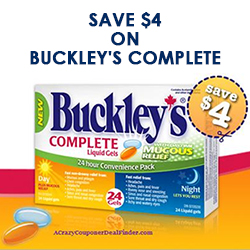 Do you have a friend that has been complaining about feeling under the weather? Well put away that soup pot and get onto Facebook and make them feel better from a distance.
"Like" Buckley's Canada on Facebook and send a friend a coupon to save $4 off Buckley's Complete Liquid Gels.
For your good deed they will also give you a coupon in case you get sick too.
Now that is handy to keep in the medicine just in case. 😉
Cheers,
Alicia